TMG Yachts Announces Two New Members of the Dragonfly Trimaran Family
TMG Yachts

Announces Two New Members of the Dragonfly Trimaran Family

TMG Yachts is delighted to announce the addition of two brand new members to the award-winning Dragonfly trimaran family: the Dragonfly 32 Evolution and the Dragonfly 40.

Dragonfly trimarans are instantly recognisable both at sea and at berth for their revolutionary Swing Wing system and are enjoyed by sailors all around the world.

The Dragonfly 32 Evolution and the Dragonfly 40 are the stunning outcomes of Dragonfly's investment in over 50 years of building hand-crafted, high-performance, state-of-the-art cruising and racing trimarans.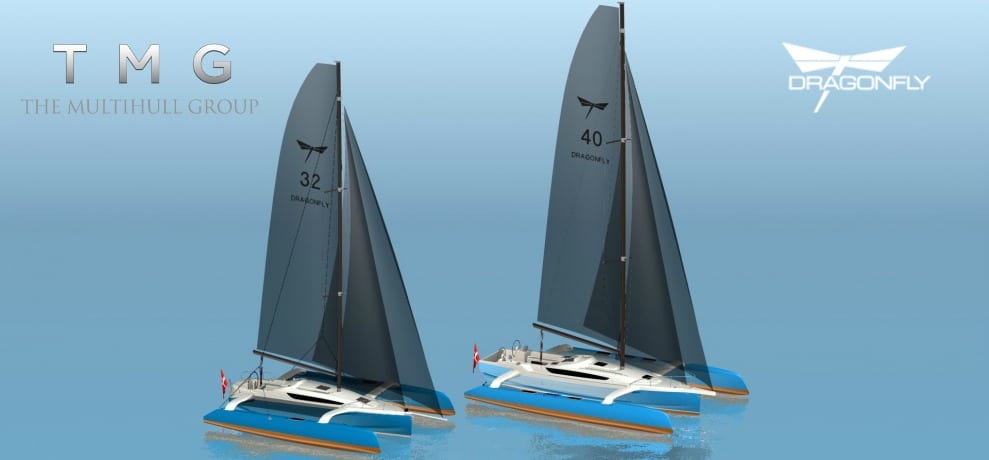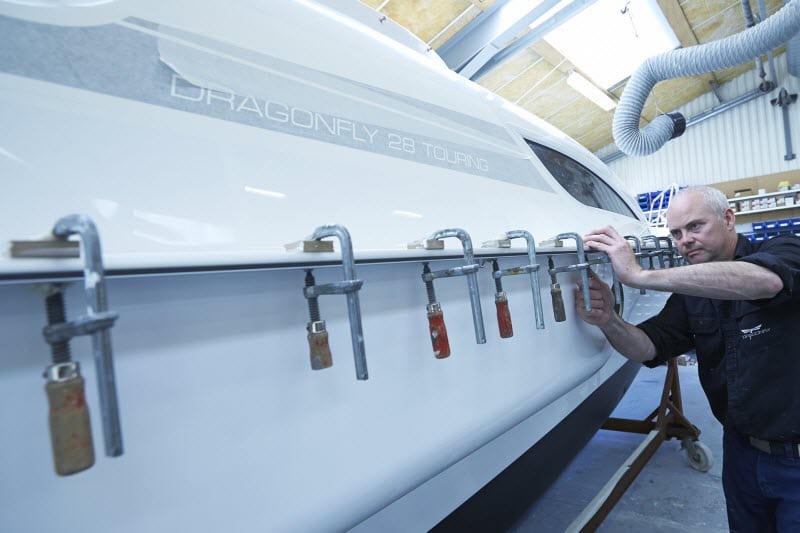 Commitment to quality and innovation
TMG Yachts Managing Director, John Cowpe, says: "As part of our vision to bring the very best multihulls to Australia, TMG Yachts is thrilled to add two brand new Dragonfly models to our exciting trimaran range: the Dragonfly 32 Evolution and the Dragonfly 40.
The Quorning family have been building Dragonfly Trimarans in the same boatyard in Denmark for 50 years, where their dedicated and highly-skilled staff continue to set impossibly high standards for modern boat building today.
Dragonfly's commitment to quality and innovation results in wonderful boats of impeccable, flawless quality, ideal for fast, comfortable and safe family offshore sailing, and delivering an incredible on-water lifestyle for our TMG customers."
Dragonfly 32 Evolution
The new DRAGONFLY 32 EVOLUTION​ is an exciting evolution of the popular Dragonfly 32 Supreme model, featuring new high-volume wave piercing floats for fast and relaxed sailing.
This new float design improves the Dragonfly's performance in stronger wind and wave conditions, expanding its offshore capabilities.
Whilst the NEW Dragonfly 32 Evolution replaces the former Dragonfly 32 Supreme, the Dragonfly 32 Touring version will remain part of the Dragonfly 32 line-up.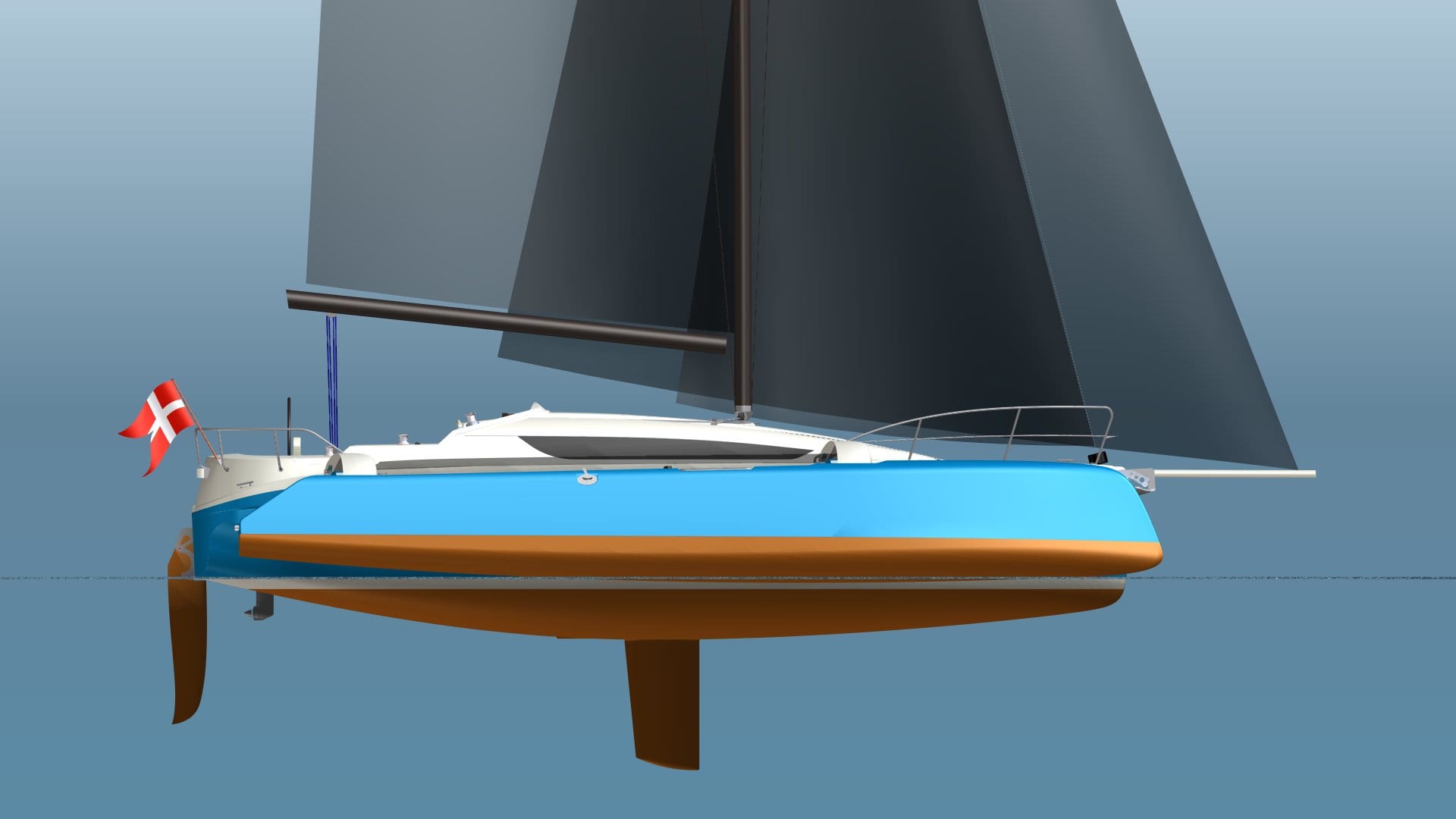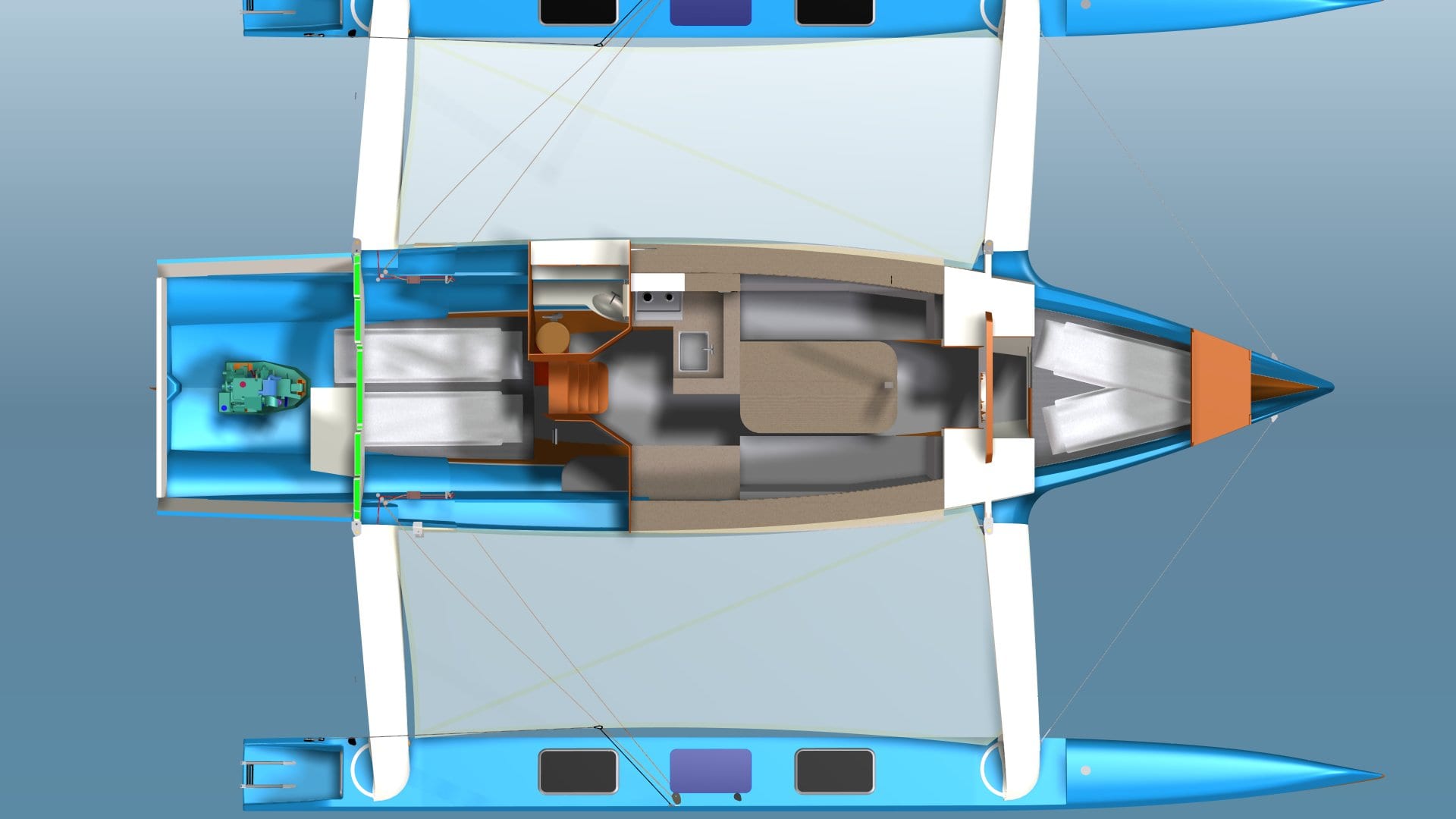 Dragonfly 40
The brand new DRAGONFLY 40 is the largest Dragonfly model ever built and becomes the flagship model for the brand.
Designed for sailing trimaran enthusiasts, with its cutting-edge design, focus on easy handling and shorthanded sailing, the Dragonfly 40 sets new standards for fast, comfortable and safe family offshore sailing.
The spacious cockpit is designed to provide everything you need when sailing and spending days on the water with family and friends. Down below, the well-known Dragonfly style creates a stylish and modern interior.
Incredibly Versatile Trimarans
"Not only are Dragonfly continuing to build top of the line, fast, lightweight trimarans," says John Cowpe, ​"but every single Dragonfly model features high-performance, sleek, elegant European design and their dramatic award-winning 'Swing Wing' system.
This revolutionary Swing Wing system gives them enough stability to moor in the folded position in a marina berth, saving space and reducing storage costs. Dragonfly Trimarans can comfortably accommodate four to six people in a spacious principal hull that is incredibly comfortable and safe.
They are unsinkable, beach-able and have a kick-up rudder and centreboard system. Their keel-free design allows them to sail further, achieve higher speeds, enjoy greater range, as well as access places that would otherwise be out of reach… …these incredibly versatile trimarans can literally go into the water anywhere in the world."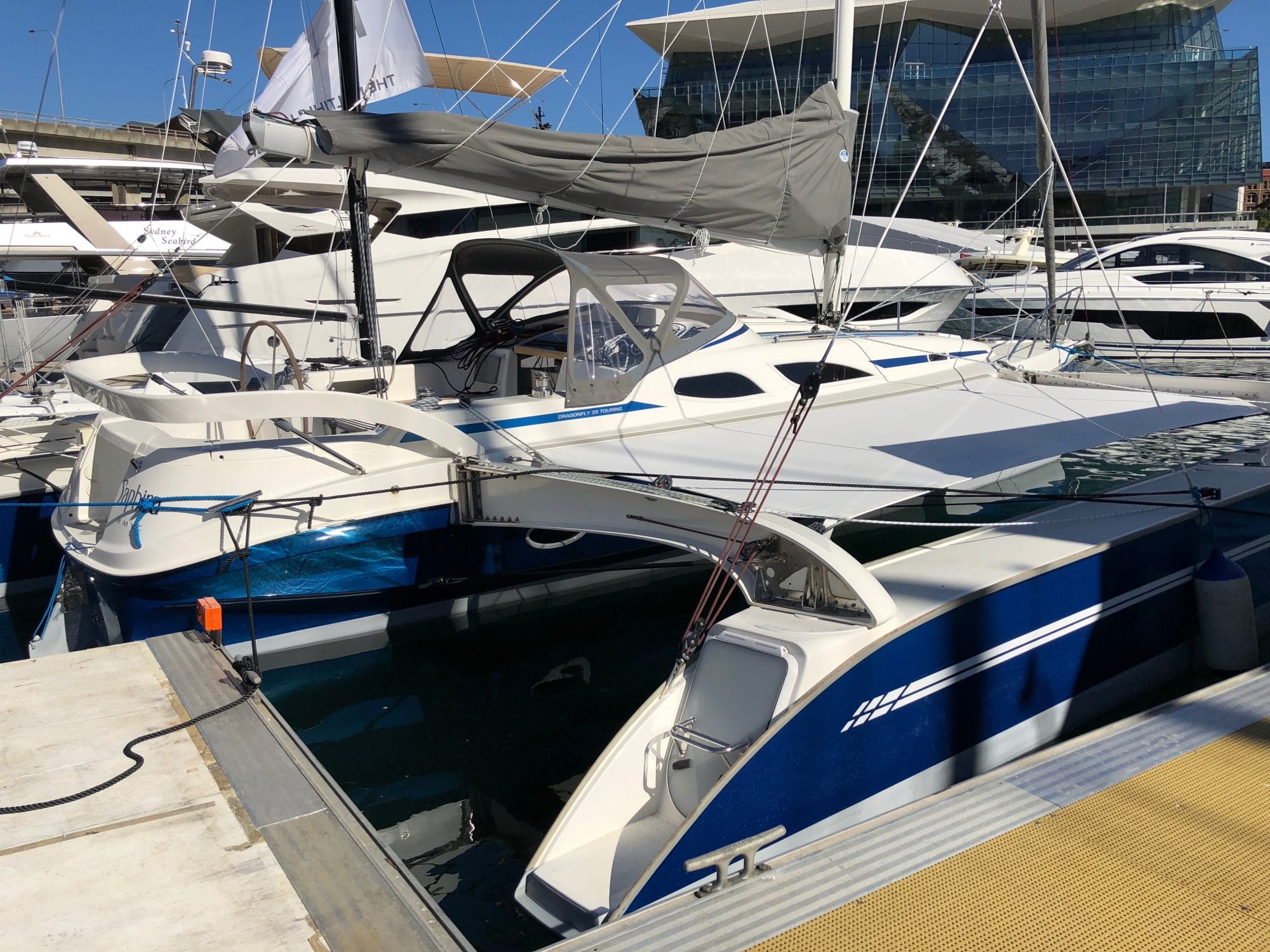 The new Dragonfly 32 Evolution will premiere Jan 19-27, 2019, at the boot Düsseldorf 2019, while the all-new Dragonfly 40 will launch in May 2019.
Contact us for more information on the Dragonfly 32 Evolution and the Dragonfly 40 or register here for our upcoming Dragonfly Tri Me day.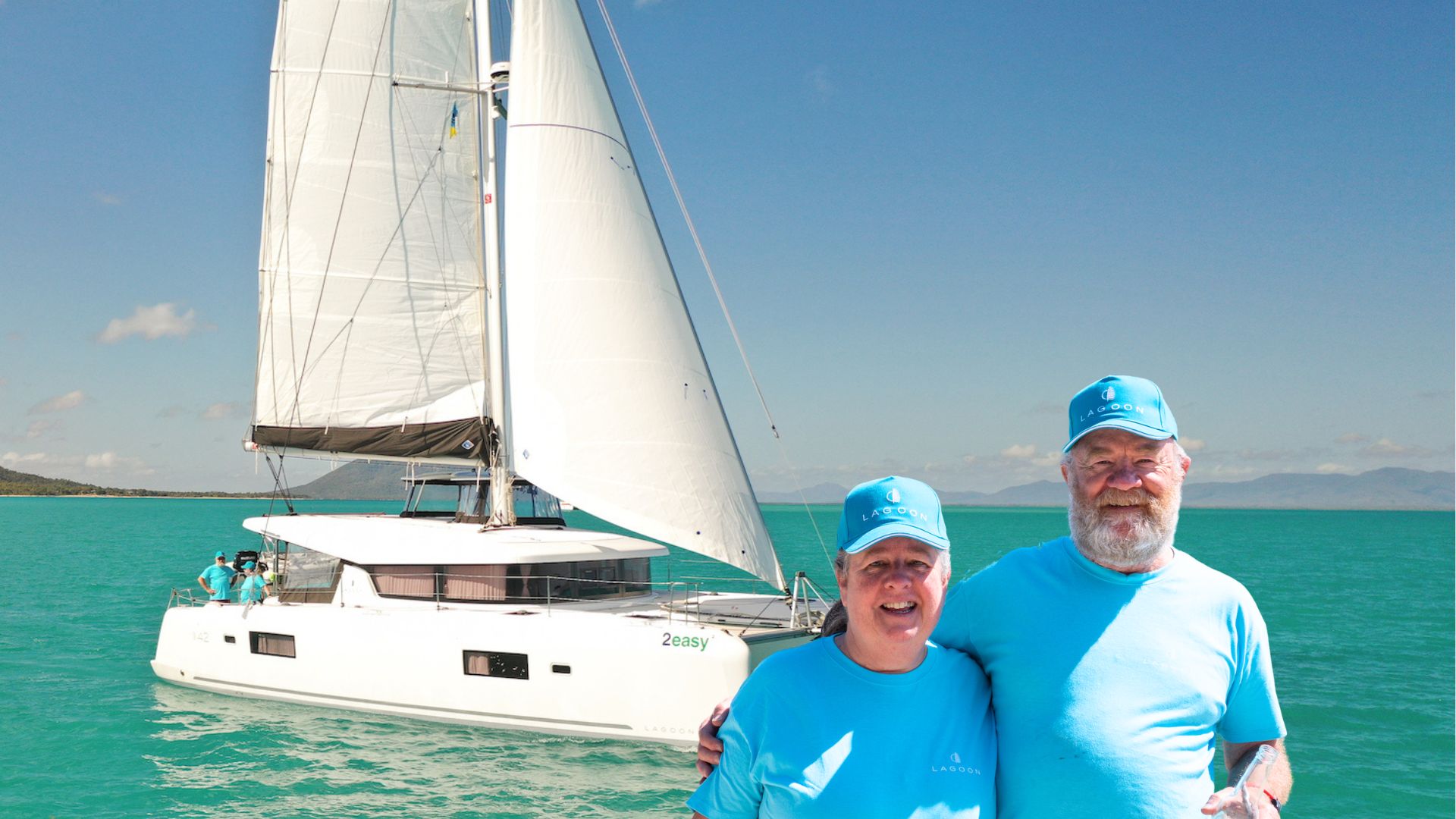 "I first saw the very first Lagoon 42 that came to Australia at the Sydney boat show in 2015. I just felt that it had everything I needed, we purchased the boat through TMG and we've been looked after very well by all the staff. We've really enjoyed the boat the first 5 months" – Ross Smith Lagoon 42.
read more